Josef Schieferer, Uhrenmacher Tyrol Pocket Watch Movement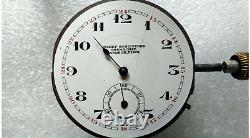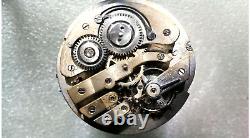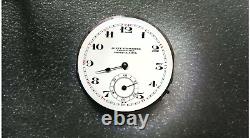 Josef Schieferer Uhrenmacher Pocket Watch Movement. Presented is a scarce (albeit, very rare) Austrian antique watch movement. Very little is known about the maker, Josef Schieferer. Handmade, mechanical, manually wound timepiece from WW I Era.
The movement crown sets, winds and runs very well - see video. The case would be side-winding.
The dial is a 24 hour dial with large black Arabic Numerals displaying hours 1-12 hours on the inner track, and small red Arabic numerals displaying hours 13-24 on the outer track. There are some cracks in the enamel, no apparent chips.
It and has not been used, cleaned or altered during my curation. The timepiece was acquired fifteen years ago and never put back into service. The minute hand did not come included when this was acquired.
If you need me to include a minute hand, I have a blued spade minute hand inventoried.